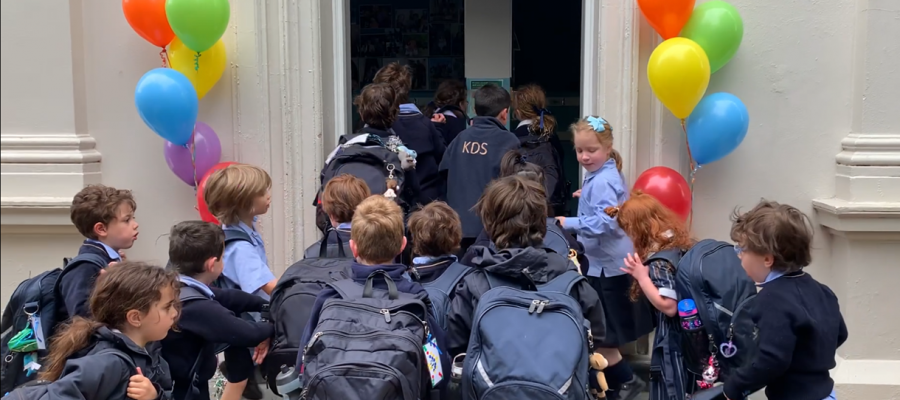 Welcome back to our Junior School campus!
We welcomed our excited Junior School students back to our beautiful Dandenong Road campus this week! 

Prep students started the week on the oval to their favourite tune 'The Morning Song' then skipped into the classroom, ready for a day of fun, laughter and learning. Later they got crafty together, making and creating beautiful bees. This is the first element of a beautiful mural display they are making. Prep teachers Rebecca Fialo and Natalie Stone said, the bees are perfect as "We are glad to BEE at school!" 

Year 1 students learned with friends and made their own 'Wellbeing Toolkits'. They shared the new skills they had learned during lockdown, including learning how to use a computer and learning how to bake. Year 1 students also worked together to make 2D and 3D shapes, and investigate a habitat – our school yard 🙂

Year 2 students have had lots of hands-on and group activities, including testing instructions each student wrote in English for making jam sandwiches, as well as studying forces at play using mysterious classroom objects. Year 2 students used their muscles to shake a jar of cream for 10 minutes observing at various intervals and were amazed that at the end, they had made butter and the liquid left in the jar was buttermilk. They grooved along to a playlist fill of shaking music and had a great time seeing the cream slowly change from a flowing liquid into whipped cream and then changing to a pale yellow more paste like consistency.

We welcomed back our Year 5 students this morning to much joy, and we cannot wait to see our wonderful Year 3 and 4 students on Tuesday!