The Friends of KDS focus on building connections with grandparents and special friends within the KDS family. They host a range of events during the year in order to strengthen ties with the KDS community and enhance goodwill towards the School.
The newly named Friends of KDS Performing Arts Scholarship recognises the ongoing commitment and fundraising efforts of the Friends of KDS. This Scholarship is awarded to a Years 9 or 10 student and remains in effect until the student completes Year 12.
If you would like to donate to the Friends of KDS and support the Performing Arts Scholarship, please click HERE.
All grandparents and special friends of KDS students are warmly invited to come along to Friends' events; please contact friends@kds.vic.edu.au for news of upcoming activities or further information.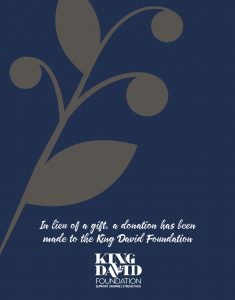 As we emerge from isolation, our first forays into socializing will be home centred – visiting friends and sharing a table. Instead of your usual gift on such occasions, we hope you will purchase a card from Friends of King David School for your hosts. Your purchase of a card goes towards our current Friends of King David School Association (FKDS) Arts scholarship project. This important project has to date supported two students in Years 9 and 10 with Friends of KDS Performing Arts Scholarship. To make a donation and create your e-card click: HERE, then email to your hosts or print and take with you. Friends of King David School Association is proud to support our fantastic school and salutes the entire school community on an outstanding response to the current challenges.