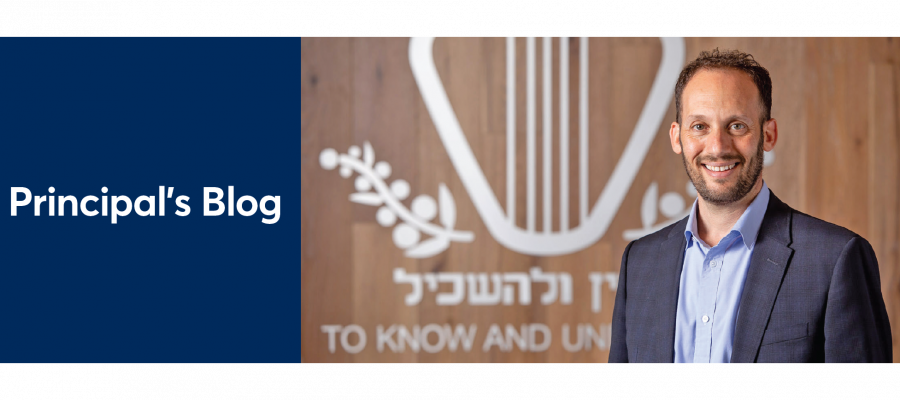 The incredible, inspiring and zany Class of 2020!
I'd like to share with you some of the words I offered as a toast at this week's Graduation Dinner.

Our dear weird, wacky, wild and absolutely wonderful Class of 2020.

What do we say about a group of students that have totally embodied our school culture and have made us all march in time to your heartbeat?

The short answer is that we love you. The much longer answer, you'll hear on Presentation Evening. But for tonight, I'll say a few things…

You have always been the most fun of our year levels. Not necessarily the most compliant. But certainly, the first to throw yourself in with full ruach and be open to a huge range of experiences. You have pushed our teachers to be their best, you have pushed our year level coordinators towards a range of unhealthy coping mechanisms but, ultimately, you have matured into a group of graduates that I am so proud to be able to say reflect our school.

You are singers, artists, athletes, leaders, scholars, actors, writers. You are all different and when you come together with all your diversity and colour, you truly make something beautiful.

You are ethical, you are intelligent and you are doers who we suspect will make an enormous positive impact in whatever you put your minds to.

We knew you were special and we suspected amazing things from this year level.

And then came COVID!

Of all the groups in the School, the pandemic has in so many ways impacted you the most. You missed out on lots of special moments. But your response has been outstanding. Your positivity and resilience have been truly inspiring. Your approach to distance learning, to embracing virtual events and your smooth exam period have all been phenomenal.

Social media is full of people decrying what a shocking year 2020 has been. Yes, it has been challenging, yes it has not has gone to plan. But I encourage you not to think back on it with negativity. This year you have achieved so much and, despite the unexpected, you have still come together as a wonderful cohort and done yourselves proud.

Speaking of pride, let me move to your teachers for a moment.

Your teachers have shown this year that they will give anything for you to achieve to your potential. I believe you have established the genuine two-way relationships that are the actual super-power of our school.

I am so grateful to your teachers who ride every bump with you and celebrate your every success. I've never seen such a caring bunch of individuals.

To our wonderful parents. Tonight is also your accomplishment. You have all given so much to provide your children with the opportunity for a KDS education. I am sure you also feel so proud of them.

Now, can you all please charge your glasses as I propose a toast to the incredible, inspiring and zany, Class of 2020!