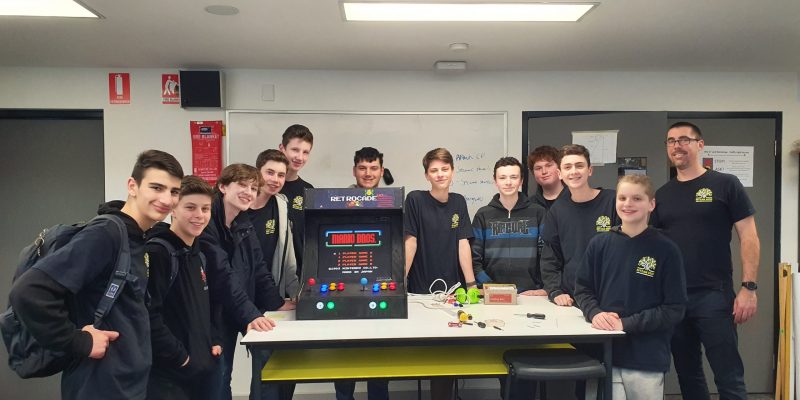 Retro Arcade Game Machine
One of the extended project activities for Nitzan over Terms 1 and 2 has been the creation of a Retro Arcade Game Machine. The project has involved many hours of team-work, problem-solving and fun. The students have been involved in a range of activities including; creating cardboard and wooden prototypes, designing artwork, using tools to accurately measure, cut and fix wooden pieces together to create the cabinet followed by sanding and painting. Lots of testing and trouble-shooting of the raspberry pi hardware, controllers, wiring, speakers and of course, the games themselves, was completed to ensure the successful final result; a retro arcade game machine with classics such as Super Mario Bros, PacMan and Street Fighter.
A huge congratulations to the following students who were involved in the project during Nitzan, many of whom spent additional lunchtimes to ensure the project was completed: Max Adler, Jackson Carew, Teige Cordiner, Ryan Frisch, Oscar Gorog, Nathan Greenwell, Samuel Jenshel, Asher Klissman, Jacob Kronberg, Samuel Lowe, Max Klein, Nathan Lahav, Torien Markus, Sammy Oizerovitch, Reine Polevoy Geller, Jared Roff, Jack Roper and Ethan Zaitchik.
The Arcade Machine will be available for student use in the MPR during lunchtimes under the supervision of Year 9 students.
Heath McGregor
Merit Coordinator