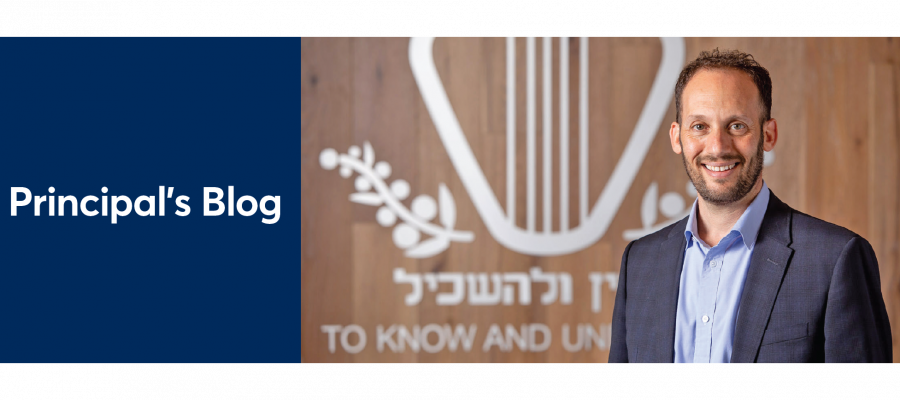 Resilience and adaptability
The reintroduction of lockdown is difficult for all Victorians. We are acutely aware of the extraordinary impact that the prolonged lockdowns in 2020 had on our capacity to function with any semblance of normalcy. No doubt, the return to anxiously following daily press briefings and the influx of angry commentary on talk-back radio and on our social media feeds is traumatic for many who worry that the worst of last year is set to return and remain with us.

However, while there is little to enjoy in lockdown and the return of restrictions, the response of The King David School staff, students and parents has been an immediate throwback to the very best of 2020.

You may recall that in this column last year I wrote the following after Presentation Evening: "On Monday night we celebrated (yes, celebrated!) The King David School's monumental achievements in 2020 at a Presentation Evening with a difference on the big screen at Coburg Drive-in cinema. I say celebrated, because even though there have been extraordinary challenges this year, there have been so many positives in the way that our school community has united and the extraordinary response of our educators and families."

Once again, over the first week of this lockdown we have seen our teachers jump into action. With almost no notice they redesigned the curriculum and lesson plans to ensure that they would suit Distance Learning. Our students have not missed a beat and their wonderful flexible and hardworking teachers are to be congratulated.

Our school's brilliant educational and administration teams have ensured that our families were kept abreast of any relevant developments and they undertook planning on the run to ensure new arrangements were put in place for our calendar of events and the Senior School exam period.

Our students have also shown resilience and adaptability. It is disappointing when key events are postponed and while lessons can shift online, the important social aspects that constitute such an important aspect of school life are greatly diminished. Nonetheless, our students responded without complaint and participated actively in our Google Meets.

Our parents have also been generous in expressing gratitude and praise and this is a welcome reminder of what it means to be in a truly community-minded school where everyone looks out for each other.

A special word needs to be reserved for our ELC staff. Throughout the prolonged lockdown in 2020 and again in the current iteration, there was a requirement for ELCs to remain open even as concerns were raised about levels of community spread and contradictory information regarding the levels of transmissibility of COVID-19. Our incredibly professional and loving ELC educators pushed their personal concerns aside and continued to provide the most profound level of care and support to our ELC students.

I am very hopeful that this "Circuit Breaker Lockdown" will be short-lived and that we will have a speedy return to campus for all our students. However, regardless of how the coming days play out, I am absolutely confident that as a school community we have got this! And for that I am profoundly grateful to all of you.