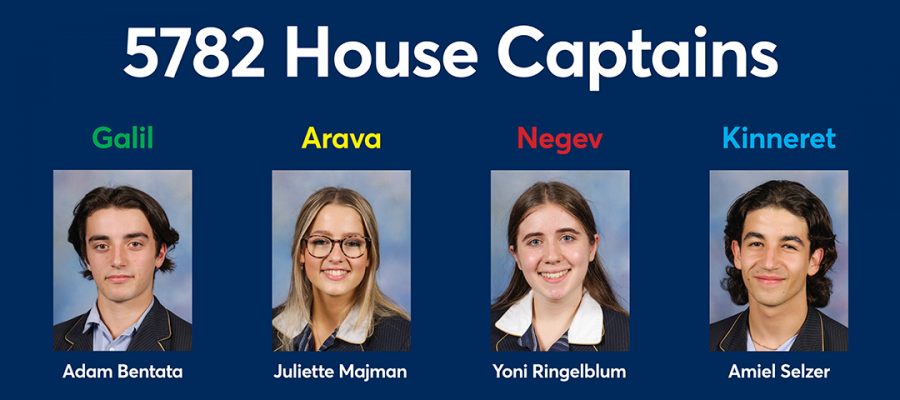 The House Captains were announced at a special sports assembly earlier this week. Mazal tov to Adam Bentata (Galil), Juliette Majman (Arava), Amiel Selzer (Kinneret) and Yoni Ringelblum (Negev)! 
The sports assembly also celebrated King David's sporting success this year, with Jack Hart from the Year 8/9 footy team highlighting their grand final win against Bialik where they won 62 to 38. Leo Gelfand also spoke about the Year 7's indoor cricket team's season, and the assembly also celebrated the Year 8/9 boys' soccer team winning their final. Despite COVID-19 setbacks, it was a great year for sports at KDS! 
The assembly finished with an interview with former Olympian, NBL and NBA basketball player Chris Anstey, who was interviewed by alumnus Michael Kahan (class of 2010). Chris shared some of his insights with our students, encouraging them to "Invest in you" and to not be afraid to be different, or  to stand out.
Asked what he would tell his younger self, Anstey said,"Find the people who do care and don't give as much time or thought or attention to those who don't."
Anstey emphasised the importance of having open conversations. Sport has helped Chris understand his emotions. Anstey said he learns as much from what impacts him negatively as what impacts him positively. He said that it is easy to be your 'best' self when the principal or coach is there, but "who are you when nobody's watching?" That's the important question. It's the people who are grateful, hardworking and respectful when they don't have to be that are special.
Finally, Anstey said that Shaquille O'Neal was the hardest NBA player to guard, describing him like a pylon that runs at you. Anstey showed us the scar that he got from Shaq! Chris also revealed that he doesn't believe in home court advantage. "It's all between your head, between your ears. The court's the same size, the ring's the same size, the crowd can't touch you. Nothing changes except for what's in our mind."
Focusing on the power of our minds is a great reminder as we reach the end of 2021.