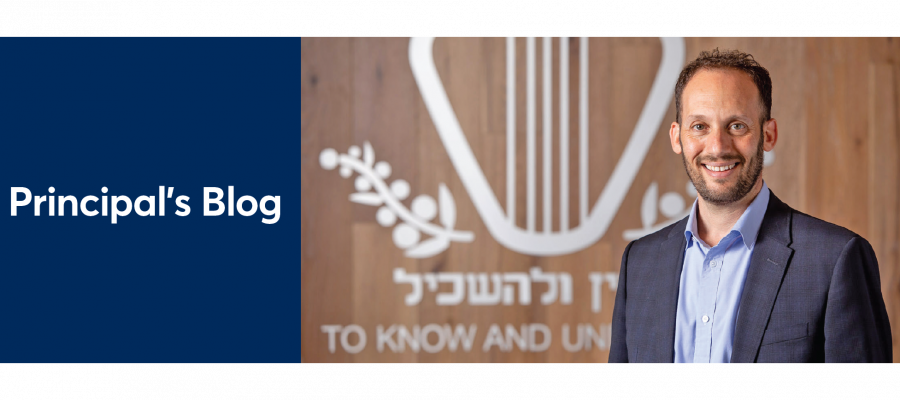 Hopeful beginnings of a better tomorrow
As we come to the end of one of the most challenging terms we have experienced, it is a great time to reflect on our hopes for the new year ahead.

One of the unexpected corollaries of the disruption created for KDS during the COVID-19 pandemic has been the way that it has pulled into sharp focus what is most valued and most central to our uniqueness as a school and a community.

Our tagline, "It's where I belong" was never meant to represent the physical spaces of our school campuses. It was chosen to represent the warmth and inter-connectedness that is the "super-power" that our students mention when asked to reflect on why King David is so special to them.

Our students seem to understand that being part of this community is to be treasured and that the way that they connect with their teachers and other students is core to our sense of being and is reflective of our school's values of inclusivity, egalitarianism and social justice.

I feel that for many of us this is why lockdown has been so challenging. I know the staff feed off the positivity and light that emanates from our students and that our students thrive on learning in a socially rich and secure environment. Both of these have been harder to experience during this extended period of distance learning.

As I have done throughout the pandemic I take pause to thank and congratulate our incredible staff who have faced this adversity with an adventurous and optimistic attitude.

This term we have continued to innovate and have found new ways to ensure that the broad holistic KDS education continues. Our teachers have incorporated new ideas into teaching and learning such as the Year 6 inter-disciplinary project-based learning activity "Reimagining KDS". We have focused on maintaining student wellbeing through daily connections in Kesher, special guest speakers and the facilitation of parental support through morning tea with our school psychologists. Our rich program of Jewish life and learning have also continued with Kabbalat Shabbat, Tu'B'Av activities and shofar blowing throughout Elul. Our staff have gone above and beyond in trying to lift spirits through creative Tikky Tokky challenges and an all-in teacher dance.

A phenomenon of living Jewishly in a Diaspora community is the way that we constantly have to keep two calendars in mind. But this year it feels that all of Victoria needs a Rosh Hashanah. It really feels apt that we are so ready to mark the end of something significant and the hopeful beginnings of a better tomorrow. So we look forwards to 5781 with prayers for a healthy, joyous and communal year.

A Rosh Hashanah video message was recorded which includes messages from our Roshei Hanhagah (School Captains). Please view the video HERE

I wish you all a g'mar chatima tovah and a shanah tovah u'metukah.