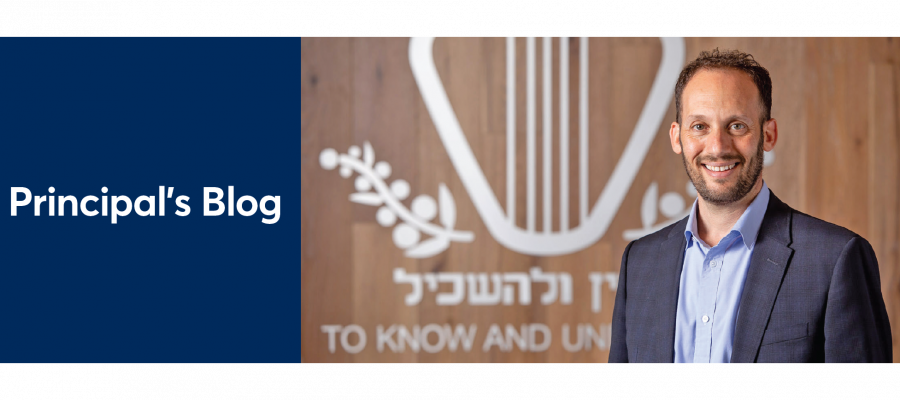 Focus on the head, heart and hands
A powerful metaphor for describing contemporary education is that it should focus on the head, heart and hands. Here, the head references the cognitive development and knowledge acquisition that is so central to all learning. The heart refers to values and focus on student wellbeing and key interpersonal skills. The hands are the pragmatic life skills and experiences that make us well-rounded people.

At King David we are proud of our provision of a broad and holistic education that engages students with meaningful curricula, enables growth and refinement of emotional intelligence and development of a strong moral compass and provides a wide range of skills that enable our students to thrive.

Our Year 9 Nitzan Program and our Outdoor Education Program are prime examples of our focus on developing our students' "hands". Of course, each of these also provide ample opportunity to develop student cognition and social-emotional learning.

The Year 9 Nitzan Program, which is a full day every Wednesday, offers students the chance to acquire a range of skills and access experiences that provide them with a sense of accomplishment and confidence. In Term 1, our students participated in the Skills for Life component. This included developing handy skills like changing a bike tyre, mowing, sewing, unblocking a toilet, sorting laundry as well as a Barista training course and CV and cover letter writing skills. Our groups also spent their Wednesdays deeply engaged in meaningful projects including landscaping, building and planting raised garden beds, constructing a greenhouse, and designing and building a puppet theatre complete with functioning lighting grid.

In Term 2 our Nitzan students have moved into a Social Action component. This was launched with an epic panel of politicians and political activists sharing their personal journeys, inspirations and challenges. We were privileged to have two Federal MPs, two state MPs, a political activist and a political advisor all present. Our students heard why each panelist is motivated to make a difference. This will act as a springboard for our students exploring issues that are important to them and finding ways to become changemakers.

After a somewhat COVID-compromised 2020, our Outdoor Education Program is already achieving wonderful opportunities for our students to push beyond their comfort zone, to engage with one another and with staff in less formal settings and to meaningfully explore nature and First Nations Australians' connections to the land. Different year levels have already experienced camps in Point Lonsdale (VCE PE), Anglesea (Yr 7) and the Grampians, known as Gariwerd to First Nations People (Yr 9). This week our Year 11s are experiencing our inaugural Tasmania adventure and next week our Year 6s are off to Canberra.

The sense of achievement on a high ropes course or a multi-day hike is irreplaceable and the capabilities gained through extending our students' resilience are also crucial. Providing students with practical opportunities to implement teamwork, collaboration and peer support are also vital for their development.

Through ensuring that we provide ample avenues to develop students' practical life skills and provide them with peak and unforgettable group experiences, we are able to ensure that our students are able to grow in myriad ways that will prove valuable for them now and into the future.