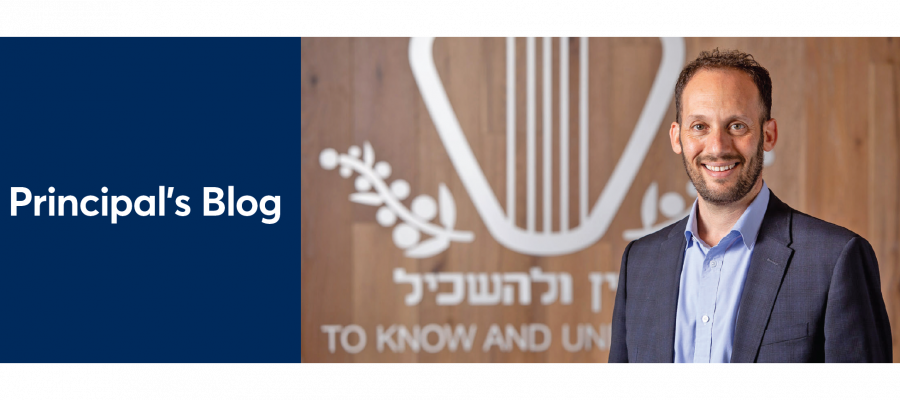 I'm not going to lie – this has been a tough week.  Melbourne comedian, Titus O'Reilly, aptly summed it up on Twitter earlier this week by stating, "I give today zero stars!"  We have all been upset by the news of the violations of COVID-safe protocols from within the community and the extension and tightening of lockdown laws. We have seen exponentially escalating levels of vitriolic abuse levelled from within the Jewish community to other community members and also from extremists outside who have used the circumstances as a pretext to level anti-semitic rhetoric. Amidst all of this, our students, parents and staff have to negotiate the challenges of distance learning and the marathon periods of lockdown – this week we ticked over 200 days in total! 

Yet amongst all of this negativity I draw inspiration from the strength and resilience of those who respond with optimism and compassion. The Australian Jewish News reminded us of this in its front-page editorial: "There is so much goodwill in our community that we can celebrate. To do so is particularly important at a time when we are all in lockdown, living under the dark cloud of COVID. Our efforts must be focused on supporting each other until we can return to normality, not tearing strips off each other."   

In this spirit I would like to share with you some things that have uplifted me during this difficult week: 

Firstly, Eddie Betts. I am not a Carlton, nor Adelaide supporter. However, I have been awe-struck by Betts' actions on the footy field and inspired by those off it. Betts is a First Nations man of the Gubrun people. He announced that this weekend's 350th game will be his last. He is one of the most instinctive and creative footballers of his generation. He has won goal of the year four times by ostensibly defying the laws of physics and achieving near impossible outcomes. For me, what is more important than the stupendous feats Betts has achieved is the way he went about it. He was able to courageously share his emotions with an appreciative public throughout his career. He emanated joy as he played every game with a wide and genuine smile on his face. Betts is a true exemplar of those who are able to infuse positivity into every moment and this has been infectious. As a direct impact of his positive approach, his teammates adore him and, uniquely, so do his opponents. He has also been the public face of anti-racism and has genuinely and universally been respected for his openness in sharing the personal impact of sustained racist attacks while gently encouraging others to join a movement for change. 

Secondly, I have drawn inspiration from our incredible Early Learning Centre staff. Throughout the vast majority of the pandemic ELCs have remained open. Our staff have been called upon every day to push aside their personal worries, to make arrangements for their own families' care and have nonetheless managed to sustain a safe and nurturing environment for our students. This week, I have most enjoyed my time in the ELC. As it is Elul I have been visiting to blow the shofar and am constantly impressed by the patience, self-sacrifice and warmth of our educators. Our school community and our students are blessed to have such dedicated professionals and we should not take them for granted.

Lastly, I want to celebrate the creativity of our teachers. It will come as no surprise to learn that none of our teachers like distance learning. They all feed off the daily in-person interactions that occur in the classroom and have chosen a career whereby they can support young people to achieve their potential.  Adapting learning to make it interesting and fun when it is delivered through video technology is difficult. The lessons are taking place in environments where there is far less control to manage distraction and to make the most of spontaneous learning opportunities. Despite these challenges, our teachers continually strive to keep the learning upbeat and engaging. The Science Week activities, the Tikky Tokky challenges and the use of varied resources have all contributed to keeping our students' mood up and allowing learning to continue flourishing despite the very difficult circumstances we find ourselves in.

I hope that, like me, you have been able to find the things that have kept you optimistic and positive throughout this challenging time. As our sages teach us – Gam ze ya'avor – this too shall pass.