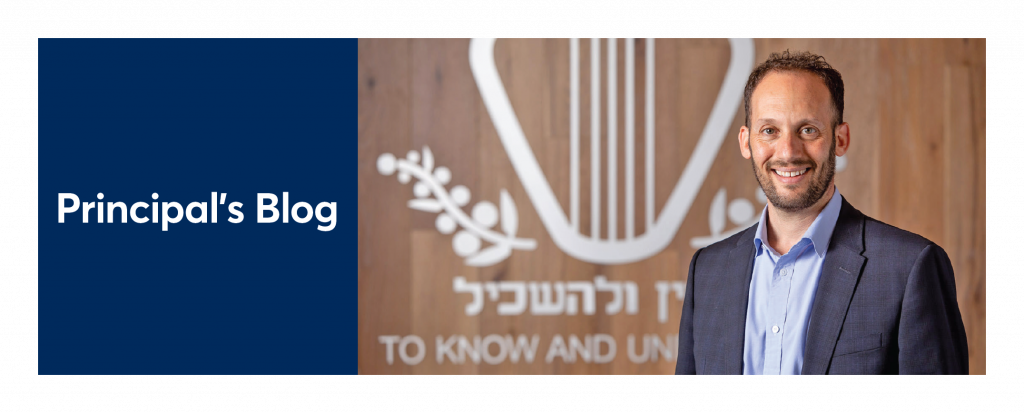 Embodying our school culture
Hinei Matov umanaim shevet achim gam yachad!

This short circuit breaker lockdown has brought into sharp focus how much better it is when we can be together as a community.

I am so grateful to our staff, students and families for the incredible flexibility, positivity and open-mindedness with which you approached the interruption to our beginning of the school year and our sudden shift to distance learning.

While this has been a timely reminder that in the world we live in we may have our plans varied at short notice, we are still so optimistic for a wonderful year ahead.

In the first weeks of school, I've been keenly checking in with our many new students at the end of each day and I am thrilled to let you know that they report being happy and immediately comfortable. Recently, one of our new Year 6 students came up to me spontaneously at recess and asked if she could speak to me. She said she wanted to tell me that this is such a lovely school and everyone here is so kind and so she wanted to thank me. I hope that this continues as it seems our students have locked in to the KDS community already. That immediate community is what we are really striving for.

As always, over the summer break, the KDS team set about considering how we can make our school an even better place in 2021.

Our Senior Leadership Team spent time focused on discussing the attributes of a great school and committed ourselves to developing strategies, systems and programs that we believe will preserve and enhance our fantastic culture, faculty and opportunities.

At our opening assemblies, I spoke to our students about what we will be doing to ensure that we contribute to their having the best year ahead that they can.

I explained that we are working with our teachers to provide a safe, stimulating learning environment for them. We have developed new programs focused on their holistic development and achievement. We are seeking new opportunities so that our students can grow and be challenged. We will work tirelessly to improve our school and school community and we will continue to speak with you and with our students to understand what our stakeholders are looking for.

We will create high expectations of behaviour and respect to ensure that classes are fun and engaging but also focused and meaningful and that relationships are supported to thrive.

Everything we do will be anchored in our core values of inclusion, egalitarianism and social justice.

That is some of what we are going to do. I also asked the students what they are going to do for themselves to have the best year they can.

Last week I wrote about our focus on studentship and how I challenged our students to take responsibility for their attitude and thus their learning experience. I am sure that taking on this challenge will make a huge difference to their progress and sense of engagement.

What I asked of the students, however, went beyond the classroom. What are they going to do in their lives outside to try new things? How will they adopt good routines and ensure health of body, mind and spirit?

I asked them one more question – what are they going to do for each other? They should never forget that one small moment of kindness can make all the difference in someone else's day.

Now I want to add one final question – what can our parents do to ensure that the students have the best year they can?

Firstly, I suggest that a key is to ensure positive communication. Let us know if you feel your child is having a problem and we will help them to solve it. That triangle of home, school and student is proven to be the best way to ensure educational success.

Another request is that you do your utmost to embody the culture that you love in our school community – invite others in and reflect the value of inclusivity.

We know that our staff, parents, and our students have a great love for our school. We have built something very precious here. It is all our job collectively to avoid taking this for granted and to work hard to ensure that our school remains so special and worthy of all our love.