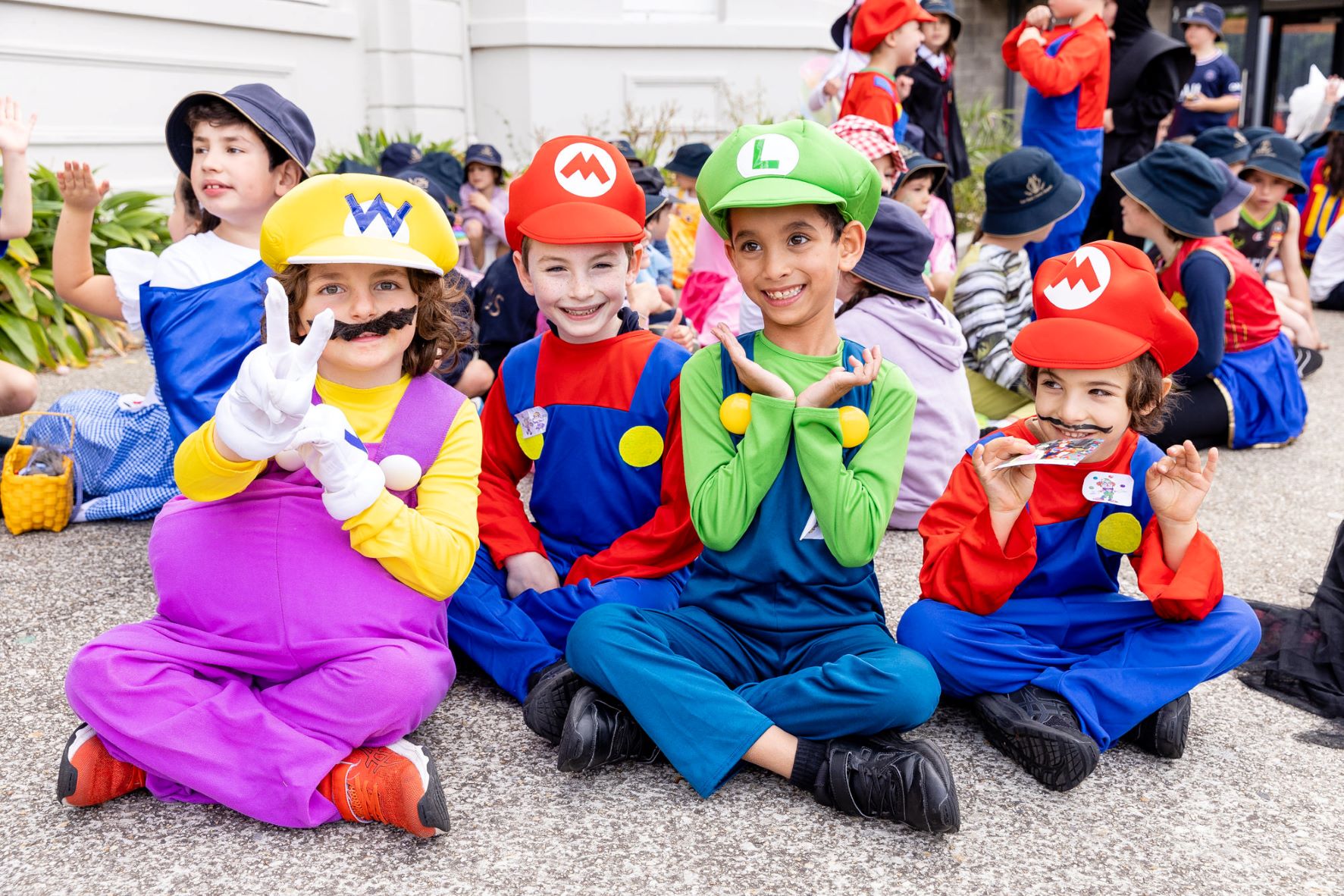 Our campuses were filled with colourful costumes and joy as we celebrated Purim on Wednesday. 
We had an exciting Purim here in the Junior school, full of celebration, food and fulfilling many mitzvot. We were able to show off our costumes at our Purim Parade in front of the whole school and many parents. We made our own ra'ashanim to make lots of noise during our megillah reading when we heard Haman's name as well as creating mishloach manot to give to our friends. We celebrated the Jewish people being saved by going to the fair where we ate fairy floss and popcorn and jumped and slid down jumping castles. We continued honouring the hard work Malkat Esther did to save our people by seeing an interactive show where we laughed and cheered in delight. Some of us were lucky enough to bake our very own oznei hamans while others decorated masks and participated in activities specially created by our year 10 Hadracha Students. We finished off the day by singing our favourite Purim songs and listening to the Megillah.- JLife Team, Junior School
Our ELC children participated in a Purim parade where they could showcase their costumes! Each Kinder class one at a time walked on stage and the children loved seeing everyone cheer them on. Following the parade, the children came back to the Kinder room to sit on our long table and have a feast just like King Achashverosh and Queen Esther did in their palace.
Next, we went to the hall to watch Andy's Antics, a show with lots of games and dancing. The children thought he was hilarious!
We ended the day with exchanging mishloah manot with a friend! This is considered a mitzvah on Purim. Overall, the children had an incredible day! – ELC Teachers
We had a fantastic day at our Magid campus (Middle and Senior School) starting with our Hanhagah and Tzev Lev Jewish Life educators greeting students to take them to space for our 'out of this world' theme. After dancing through the morning, students read Megillat Esther together in assembly, then participated in different Purim activities including making Oznei Haman (Hamantaschen), a Purim-themed escape room, laser tag, a circus workshop, Purim-based science experiments, reenacting Purim lots, and a mini Olympics. Our Year 10 leaders assisted with activities at the Dandenong Road campus. At lunch, students came together to participate in our festival on the oval, with a Seudah (feast), rides, games, and of course, plenty of ruach dancing. Students shared Mishloach Manot with each other and donated Matanot L'evyonim to Impact for Women.
Chag Purim Sameach!