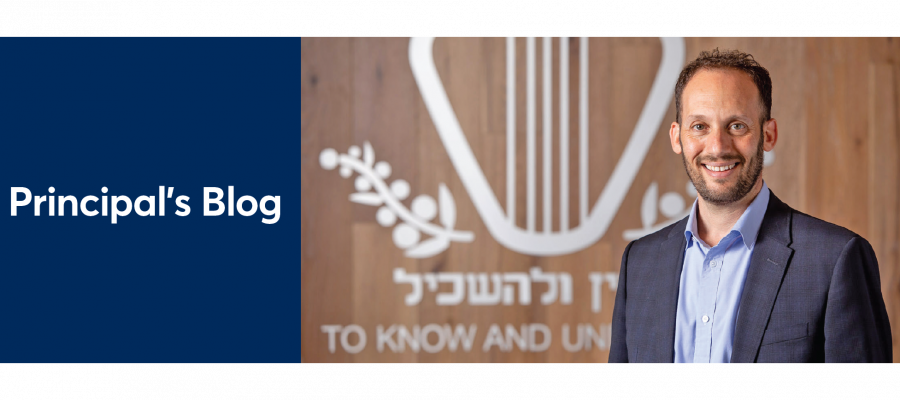 A vision of a just and inclusive society
In our vision and values statement we explicitly acknowledge the vital place that Israel holds within our school identity. While we are proudly Australian Jews, in parallel, we are constantly striving to nurture "a close and meaningful relationship with the land and State of Israel." At the King David School, we place Israel at the heart of our work, our study and our play. We teach for identification with Israel and for an understanding of her language, geography, history and current affairs. Our goal is to graduate young people who have Israel at the core of their identity and who are able to engage in reasoned, informed and sophisticated discussion about the Jewish homeland.

Last year, in the depths of lockdown, I was honoured to participate in a Virtual Progressive Judaism Victoria event interviewing Reform Israeli rabbi, Gilad Kariv. Rabbi Kariv shared his strong vision for an inclusive, just and strong Israel, based in social justice and equality and firmly anchored in the founding ideals of the state.

In the coming month, Rabbi Kariv is likely to make history by being the first Progressive rabbi to be elected to the Knesset. He has secured the fourth spot on the Labor party's electoral list which analysts suggest makes it a near certainty that he will win a Knesset seat in Israel's 23 March election.

Despite Rabbi Kariv's strong Zionist credentials, exceptional background in community building, Jewish life and advocation for the rights of others, the move has garnered opposition within the Israeli political sphere. Indeed, this week, representatives from Orthodox parties Shas, United Torah Judaism and the National Religious Party have all issued statements attacking Rabbi Kariv, vowing to boycott any coalition with Labor if he is elected and refusing to count him within a Minyan at the Knesset synagogue. An example of such incitement is a statement by Shas MK Moshe Abutbul who said: "Torah Judaism can't tolerate all sorts of cults and faiths that aren't connected to the pure Judaism of Shulchan Aruch."

I join with many other members of the Jewish communities in Israel and across the world in condemning these highly offensive attitudes and statements. The World Union for Progressive Judaism issued a statement which expressed this disgust: "This incitement is unacceptable in any democratic society and goes against the shared values Klal Israel (Jewish peoplehood) and Areivut Hadadit (solidarity)."

Unfortunately, the offensive statements are a stark reminder of the shameful fact that while the Progressive movement is thriving worldwide and growing rapidly in Israel, it suffers the greatest level of institutional intolerance and exclusion in the Jewish state. It is simply unacceptable that Israel still proclaims as invalid Jewish life cycle events conducted by Progressive rabbis.

Our school teaches Jewish life to our students in an open, embracing and non-judgmental manner. We know that our community is strengthened through diversity and that the multiplicity of familial backgrounds, customs, traditions and faith standpoints allow us to grow together in respect, egalitarianism and community.

Israel's Declaration of Independence sets forward a vision of a just and inclusive society. It states that Israel "will foster the development of the country for the benefit of all its inhabitants; it will be based on freedom, justice and peace as envisaged by the prophets of Israel; it will ensure complete equality of social and political rights to all its inhabitants irrespective of religion, race or sex; it will guarantee freedom of religion, conscience, language, education and culture."

If Rabbi Kariv is successful in his quest to be elected I am sure that he will work hard towards achieving this vision and it is one that our School remains proud to support as well.