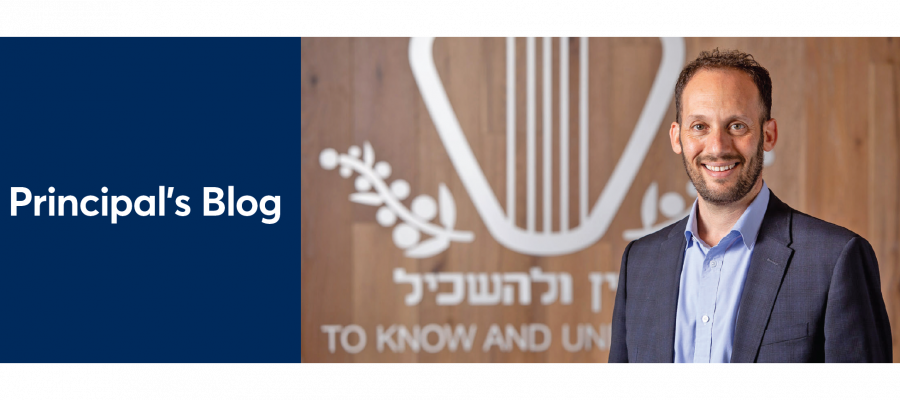 A sense of connectedness and wellbeing
At King David we truly understand that in order for students to thrive, both within and beyond the classroom, we must foster a culture that develops their sense of connectedness and wellbeing.

Our dedicated wellbeing classes led by trained educators are one avenue to ensure that our students receive developmentally appropriate instruction in the enabling skills that lead to successful wellbeing outcomes. However, we also recognise that every educator is, in essence, also a wellbeing teacher, and thus it is essential that all our educators are trained in this vital area.

Every year, we conduct an educators' conference focused on student wellbeing so that our staff have the opportunity to keep abreast of the latest research and techniques into how best to support our students to develop personal strategies in order to flourish.

This Monday's Wellbeing Conference was different to previous ones. Rather than providing keynote lectures, the day was broken up into a series of workshops and electives that our educators selected to engage with. There was also an opportunity for staff to view, listen or read relevant videos, podcasts and articles and to then participate in themed discussion groups.

I thought it would be beneficial to provide our broader community some insight into what our staff engaged with on this valuable professional learning day.

The topics for the workshops included a session on the causes, effects and management of trauma in children. Another workshop dealt with the prevention of suicide and self-harm in school settings. Man Cave Academy focused on the world teenage boys live in and how educators can better engage boys. Similarly, a workshop conducted by Flourish Girl aimed to help educators to be able to support girls to feel more confident, self-aware and connected to their peers. A Values Journey workshop provoked educators to identify their own personal values and to consider their desired future values, team or group values, the school values and how values can be consciously brought into play in the classroom. Staff were also able to learn from an expert from the Alannah and Madeline Foundation on effective responses to cyberbullying and how to access the best industry resources available to educate students about online safety.

There were also opportunities for staff to partake in a range of wellness workshops that were aimed at enhancing their own sense of wellbeing and their capacity to share this with our students.

The discussion group topics included exploration of positive education, teacher wellbeing, managing childhood anxiety, modern parenting, inclusive teaching and promotion of gratitude and altruism in the classroom.

A post-conference survey of staff provided exceptionally positive feedback on the quality of the workshops and the depth of learning encountered. It is conference days like these, alongside our curricular focus and unique culture that prove that our school's commitment to the wellbeing of our students is core to our mission and something that we continue to work towards improving especially during these trying times.