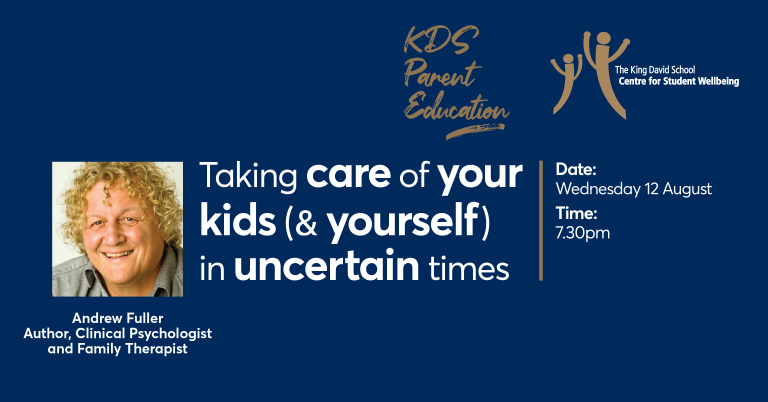 KDS Parent Education Webinar
A webinar, featuring Andrew Fuller, Author, Clinical Psychologist and Family Therapist on "Taking care of your kids (and yourself) in uncertain times", relevant to parents of children of ALL ages will be held on Wednesday 12 August at 7.30pm.
Andrew has worked with schools in Australia, NZ, Asia and the UK on core elements of resilience – connect, protect and respect (CPR) and building The Resilient Mindset, which he defines as "the happy knack of being able to bungy jump through the pitfalls of life to rise above adversity and obstacles".
Andrew Fuller is a Honorary Fellow at the University of Melbourne and has been a scientific consultant for the ABC and a regular presenter on Radio National. He has established programs for neuroscience and education and the promotion of mental health in schools, substance abuse prevention, and the reduction of violence and bullying, suicide prevention programs and for assisting homeless young people.
Topics covered will include:
 The active ingredients of resilience
 How parents can develop these in their children
 How to identify the signs of anxiety, sadness and trauma
 What to do about them
 Creating the antidotes of empowerment, helpfulness and hope
To register your attendance at this free webinar, please book: HERE .
A webinar link will be sent to all attendees on Monday 10 August.